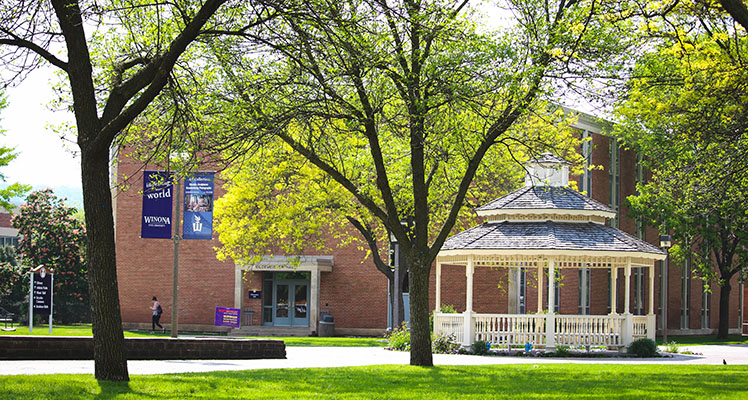 Green Campus: Sustainability in Practice
Sustainability is a core, university-wide commitment at WSU. Since our first all-university committee on sustainability was formed in 2007, we have been working together to understand the issues related to developing a sustainable future, and to build an infrastructure and curriculum to meet that need.
Renewable Energy
Winona State purchases 4,800,000 kWh of renewable energy per year from Xcel Energy's Renewable Connect program.
This equates to approximately 23% of our annual electricity consumption coming from renewable sources.
Put another way, WSU's purchase of renewable energy is enough to power 525 average U.S. homes.
Participation in Renewable Connect supports an increase in renewable energy generation and takes advantage of abundant natural resources (wind and solar) with no greenhouse gas emissions while helping WSU meet its sustainability goals.
Housing
In 2012, the university opened the Sustainability House, a renovated property adjacent to the university.
The house was designed to be as sustainable as possible within the confines of its budget, and is meant to serve as a model residence demonstrating good building practices and conscientious use of the land.
Currently, a cohort of US military veterans is using the house as a residence and communal space.
Dining
Chartwells Dining Services at Winona State has always been at the forefront of sustainability and will continue to lead the way. Every year, Chartwells increases their efforts to positively influence the global food supply chain.
Currently, they serve cage-free eggs, Fair Trade Certified coffee and tea, rBGH-free milk, plant-based milk alternatives, as well as vegan and/or vegetarian options at every meal. Reusable to go containers are available in our residential dining halls for takeout (as a replacement for dining onsite).
Every spring Chartwells also holds a "Love Food, Not Waste" event, along with other callouts during the year, to build student awareness of food waste.
Tower Gardens (indoor planting systems) will adorn areas of campus beginning fall semester 2018. Food harvested from these towers will be used in various menu items, mainly in retail.
Recycling
Recycling is required by Minnesota Law and is one of the easiest ways you can help the university be a good environmental steward.
We must reduce the waste we produce by:
choosing materials wisely
reuse what we have already by considering new roles for unwanted material
recycle what must be thrown away
In this way we'll minimize material bound for the landfill and increasing our landfill diversion rate.
See a complete list of recyclable materials in Winona County.
Transportation
Today's volume of transportation emits significant carbon into the atmosphere. WSU offers numerous transportation solutions to our students and staff in an effort to lessen harmful emissions and increase fun ways to travel.
WSU has designated parking spots for low-emission vehicles, and has installed charging stations for electric vehicles.
Planning
WSU continues to plan for the future with the sustainability in mind. Our new Student Green Fee is designed to harness the passion and energy of students to help improve our operational practices and our physical spaces.