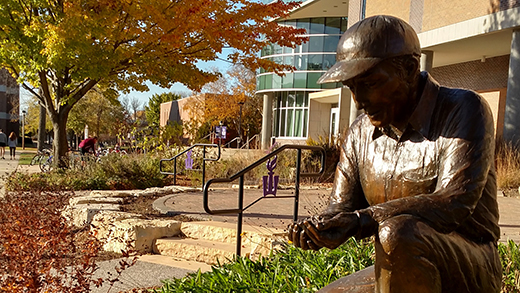 Student Green Fee
The Student Green Fee (SGF) provides funding for projects and resources to promote environmental sustainability and enhance the student experience at WSU.
The SGF is a student initiative designed to increase WSU's effectiveness in
integrating sustainability broadly across the curriculum and student life so that all students are able to advance their knowledge, skills and awareness of environmental stewardship and sustainability, and
using the campus as a living laboratory by enhancing opportunities for students, faculty, and staff to work together to develop and implement solutions to campus sustainability challenges.
As such, the green fee will be used primarily for campus green projects, student work, education (workshops, conferences, presentations), and outreach through the Green Action Project.
The Green Action Project
The Green Action Project (GAP) fills the gap between funds collected through student green fees and sustainability projects on campus.
Any WSU student, faculty or staff member may apply for the Green Action Project.
Applications for the Green Action Project are accepted in the fall semester with work commencing in the spring and in the spring semester for work commencing the following year. Dates may be extended for multi-year projects.
GAP submissions usually fall into two categories:
Smaller-scale, short-term projects (less than $10,000 budget; less than one year project duration)
Larger-scale, long-term projects (budget of $10,000 or more; project duration longer than one year)
Prior to applying, please read the Green Action Project guidelines (PDF) and complete the budget form template (PDF).
The Green Action Project application will be accepted on a rolling basis with priority given to applications received prior to Oct. 30.
If you have any questions, please feel free to contact the Sustainability Director at nengstrom@winona.edu.
Green Action Project Fellows
Students who complete a Green Action Project will be awarded the title of "Green Action Project Fellow" and recognized across campus.
Past Funded Projects
Sustainable Move Out Event: $1,478
Funding to host a residence hall waste reduction and recycling collection 
Garvin Heights Trail Restoration: $17, 513
Restoration and repair of the trailhead 
Growing Relationships of Winona (GROW) | $2,780
Community garden construction at Maplewood Townhomes.
Electric Vehicle Charging Stations | $18,000
Funding to support WSU's first two EV charging stations and to subsidize the cost of charging for students
WSU Seed Bank & Library | $2,400
Startup and launch funding
Bike Racks for WSU-Rochester Downtown location | $2,332
Reusable Water Bottle for First Year Students | $2,500
Giveaway to all incoming students in Fall 2017
WSU SEED Garden | $8,000, $2,100
Startup and launch funding for the Sustainable Edible Education Discover Garden
Additional funding to renovate and expand the garden's raised beds. 
Outdoor Trash and Recycling Containers | $9,725
New containers for the main campus mall area